Main content starts here, tab to start navigating
LIQUID COURAGE
WELCOME TO PHUC YEA!
We are excited to open our doors and serve you.
We have both indoor and outdoor seating. Reservations receive preferential treatment on outdoor seating. If this is important to you or someone in your party, please be sure to specify this in your reservations notes. However, please understand, these requests cannot always be guaranteed based on time and volume of incoming reservations.
During this challenging time, we are doing our utmost to comply with the city & state COVID- 19 mandates to provide a safe dining experience for our guests & our staff.
DRESS CODE :
To better deliver a comfortable yet sophisticated experience, we have instituted proper dress requirements.
If you know us, you know we fully encourage self-expression and put a premium on personality. We highly encourage our guests to dress with personality but we do not consider beachwear, flipflops, bathing suits, gym attire and/or clothing with offensive language or images to be appropriate. We take pride in our appearance and kindly ask our guests to respect our guidelines when it comes to attire.
Phuc Yea ownership reserves the right to deny service based on inappropriate attire.
RULES DE LA CASA :
* All checks have a mandatory 20% service charge added to them.
** NO SUBSTITUTIONS, OMISSIONS OR CHANGES.
All cocktails & dishes are prepared as designed and cannot be edited. Please note if a menu item is prepared to specifications and is returned, we will not remove or credit diners' checks.
*** We charge $1 per person for unlimited Vero Still and/or Sparkling Water from our in-house filtration system.
**** No more than 5 methods of payment per table. The miracles of technology have blessed us with multiple cash transferring apps 😉.
We are a CASHLESS HOUSE.
We proudly serve bottled Vero Water for $1 per person.
******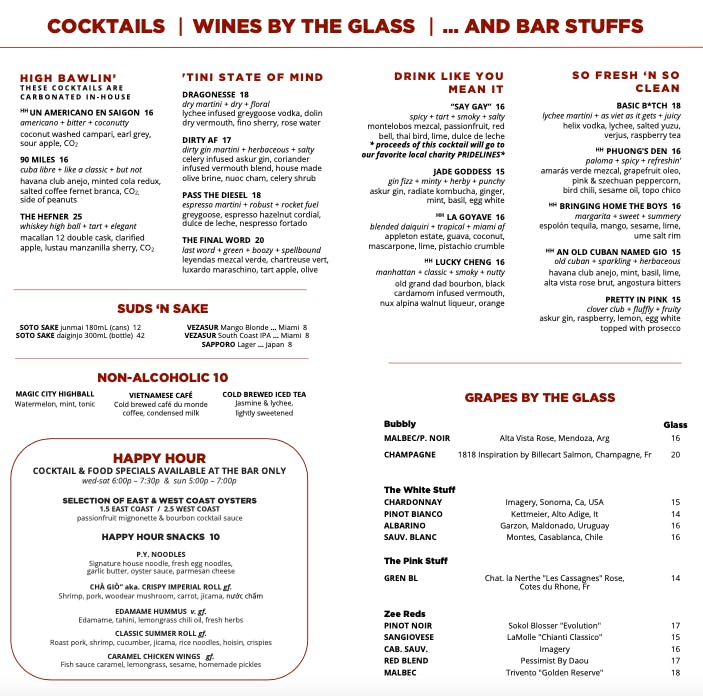 Download PDF