Main content starts here, tab to start navigating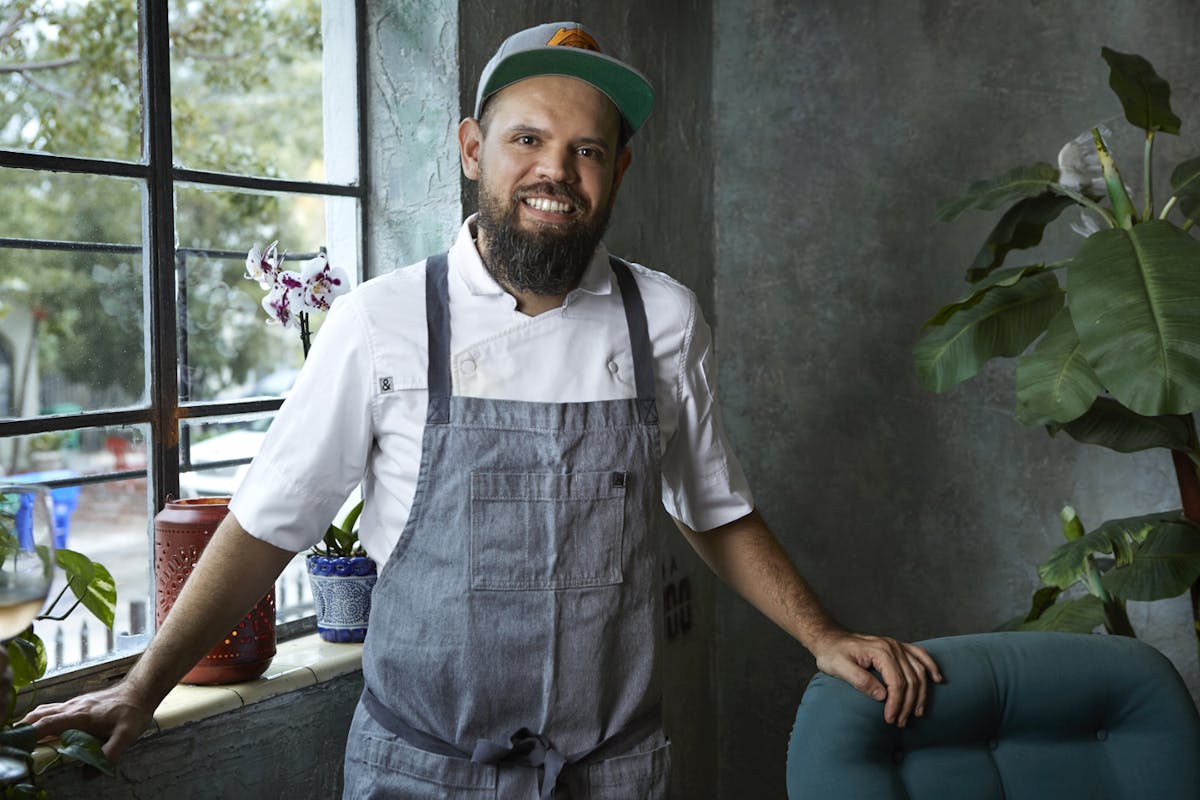 Cesar Zapata
Chef/Owner
Born in Medellin, Colombia and migrating to Paterson, New Jersey at age nine, Cesar Zapata became a chef the moment he was dubbed "family cook" while his parents worked. Over the years, he perfected his family's recipes and taught himself to recreate other cultural classics that saturated his neighborhood. It wasn't until he moved to Texas, however, that his scope broadened and his passion for the culinary arts truly ignited.
Intrigued by the ways of regional barbeque, Mexican flavors, and the seafood bounty of the Gulf, Zapata enrolled in culinary school at the Art Institute Houston. In addition to the flavors of the south, the city exposed Zapata to a multitude of Asian cuisines as cultures, especially Vietnamese flavors. Following his graduation, he gained hands-on experience at numerous prestigious establishments such as the Four Seasons and the Setai Hotels, and under the tutelage of culinary greats including James Beard-nominated Chef Timothy Keating and 2-Michelin starred Chef Shawn Hergatt.
In 2011, Zapata's biggest break with partner Aniece Meinhold was launching Miami's first pop-up concept, Phuc Yea. Before food trucks and pop-ups became prevalent, Phuc Yea's Vietnameseinspired menu made cameo appearances throughout the city. Its overwhelming success served as a launch pad for Zapata's first foray into restaurant ownership with critically acclaimed The Federal Food, Drinks & Provisions.
Five years later to the day, Zapata and Meinhold re-introduced a grown up version of Phuc Yea as a stand-alone restaurant in the heart of the Miami Modern "MiMo" (Upper East Side) District. The neighborhood, which has been rapidly growing with chef-driven gems, quaint retail spaces and community-minded thought-leaders such as Zapata, is now also home to Phuc Yea's Viet-Cajun riff on Vietnamese street food.
Phuc Yea's brick and mortar location has already made waves in its infancy. Miami Modern Luxury just ranked Phuc Yea in their "10 Most Exciting New Restaurants in Miami." Eater has praised it numerous listicles such as "Buzziest Brunches, Best Chicken Wings, Hot List October/November/December", as well as a cultural feature on "How Viet-Cajun Cuisine Came to Reign Supreme at Phuc Yea." The Miami New Times just awarded Phuc Yea with "Best Restaurant in the Upper East Side," "Top Restaurants of Miami Dade," and gleaming dining review by Zach Fagenson, "Vietnamese Restaurant Phuc Yea Returns with More than just Fish Sauce."
After 5 years of operations, Zapata closed The Federal. He and his team received numerous national accolades, including "Best Biscuits in the US" and "Best Gluten Free Dessert" from Food & Wine magazine; "Best Local Eats" by USA Today Travel; "Best Gastropub 2011 Finalist" by Village Voice; and the Trip Advisor "2013 Certificate of Excellence." Under Zapata, the restaurant has also been lauded as one of five of "Miami's New Culinary Guard" in Indulge magazine; winner of the "Golden Spoon Award" from Florida Trend; and "Top Five Gastropubs," "Best Neighborhood Restaurant" and a beyond-stellar review in the Miami New Times.
Zapata has received a number of national accolades. He has been featured on The Food Network's: Diners, Drive Ins and Dives (hosted by Guy Fieri) and was a Semifinalists on Gordon Ramsay's Best New Restaurant, showcasing sheer culinary talent and strong work ethic as driving forces in his career. Star Chefs awarded Zapata as a Rising Star in South Florida in 2016 and he has also served as partner and ambassador to brands such as Tabasco, Cadillac, Toyota, Barilla, Vice Media, Hey Shugah!, Smithfield, Zacapa Rum and La Victoria Cast Iron Cookware. Additionally, Zapata serves as a member of the Advisory Council for No Kid Hungry Miami.